Maintaining the Beauty of Your Bare Wood Decks and Fences
Why Chemical Cleaning is a Better Option than Pressure Washing and When to Call a Professional
Cleaning bare wood decks and fences is an essential part of maintaining their appearance and longevity. Over time, these outdoor structures can accumulate dirt, grime, and even mold, which can cause discoloration, warping, and even structural damage. While there are various methods to clean wooden decks and fences, using pressure washing might seem like an easy solution, but it could cause more harm than good. Instead, a chemical cleaning solution is a better option to consider.
Why Pressure Washing is not the Best Option
Pressure washing uses high-pressure water jets to remove dirt and grime from various surfaces. While this method may seem effective, it can damage bare wood decks and fences by stripping away the outer layers of the wood, making it more vulnerable to rot, splitting, and other forms of damage. Pressure washing can also leave visible marks on the surface, making the wood look uneven and unsightly.
Using Chemical Cleaners
Chemical cleaners are a better alternative to pressure washing when it comes to cleaning bare wood decks and fences. These solutions are specially formulated to dissolve dirt, grime, and other stains without damaging the wood's surface. They are designed to penetrate deep into the pores of the wood, removing the dirt and grime that has built up over time.
Choosing the Right Chemical Cleaner
When selecting a chemical cleaner for your wooden deck or fence, it's important to choose one that's specifically designed for bare wood. Some cleaners are formulated for use on painted or stained surfaces and may contain chemicals that can damage or discolor bare wood. It's also essential to choose a cleaner that's safe for the environment and won't harm plants, animals, or water sources. Look for a cleaner that's biodegradable and contains no phosphates or bleach.
How to Clean Your Bare Wood Deck or Fence
Before applying the chemical cleaner, it's important to remove any loose debris and dirt from the surface. You can do this by sweeping the deck or fence with a stiff bristle broom or using a leaf blower.
Next, mix the chemical cleaner according to the manufacturer's instructions, and apply it to the surface of the wood using a pump sprayer. Be sure to apply the solution evenly, and avoid getting it on any plants or vegetation. After the cleaner has had time to work, use a stiff bristle brush to scrub the surface of the wood, working in the direction of the grain. Finally, rinse the surface with a garden hose, being careful not to apply too much pressure, which could damage the wood.
Conclusion
Certainly, if you feel unsure or uncomfortable about cleaning your bare wood deck or fence with chemicals, it's always best to hire a professional cleaning service like T&T Powerwash. They have the experience and equipment necessary to clean your outdoor wooden structures safely and effectively, leaving you with a beautiful and well-maintained outdoor space. By entrusting the job to professionals, you can ensure that your deck or fence will be properly cleaned without any risk of damage or harm to yourself or your property.
Our Latest Projects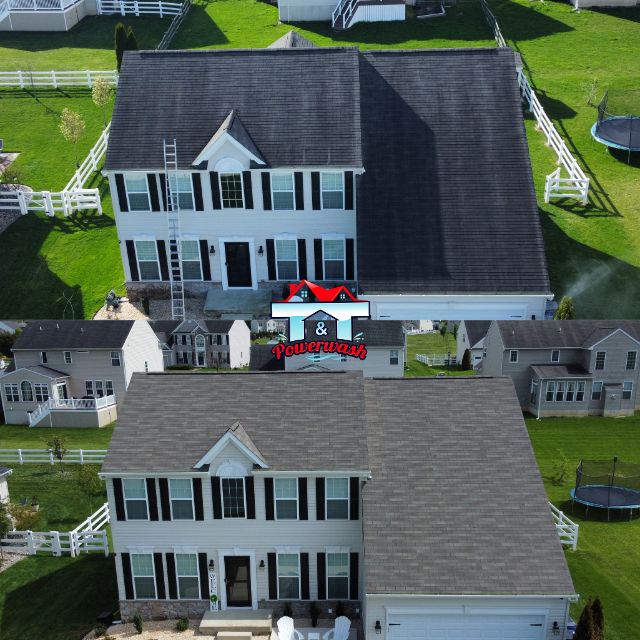 Roof Cleaning in Smyrna, DE
This customer was hoping to have there roof look new, without replacing it. They reached out to find out how our roof cleaning process worked. We gave them a quote within minutes and were out within […]
See Project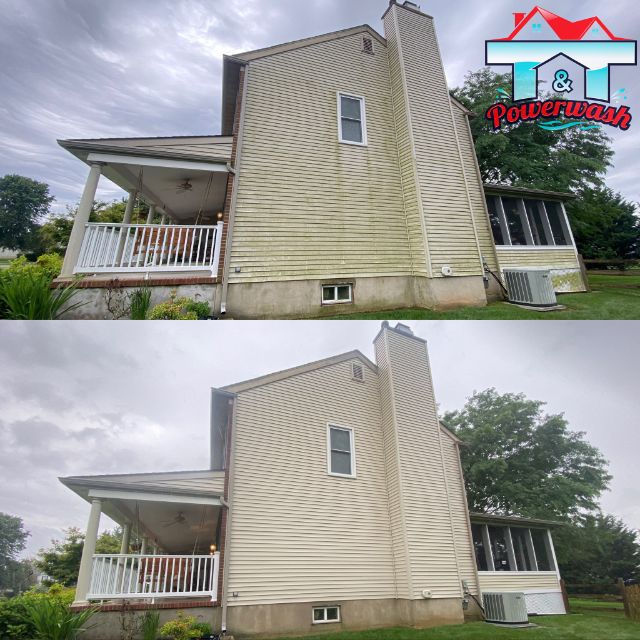 House Washing in Middletown, DE
This customer was is dire need of having their home and screened in porch cleaned. They gave us a call to find out what could be done. After a short phone call, we assured them that we could definite […]
See Project
Coming Soon!
Get A Free Quote Today From A Middletown Pressure Washing Company!