Frequently Asked Pressure Washing Questions - Answered By T&T Powerwash
Regular pressure washing doesn't work on every type of surface. Most areas of your property will need a gentler, more delicate approach. That's where soft washing comes in.
Soft washing is the safest, most effective way to clean these delicate surfaces. The technique combines the use of low pressure and professional cleaning solutions to remove the stubborn mold, mildew, algae and Debris. Soft washing is primarily used for areas such as vinyl siding, gutters, roof shingles, glass, shutters and other delicate surfaces.
High-pressure washing is great for a variety of surfaces like bricks, pavers, concrete, asphalt, and more. However, you don't want to use high pressure during the fence washing or deck cleaning process. Instead, we use a method known as soft washing, also called low-pressure or no-pressure washing. We use specialized equipment that allows us to reach lower pressures than a traditional pressure washer can achieve.
One of the most frustrating things about exterior dirt and grime is that it can cause unsightly stains on your exterior surfaces. Specific contaminants like mold can cause permanent stains, and pressure washing can help reduce their visibility. In a high percentage of instances, our expert pressure washing services will remove most, if not all traces of lingering blemishes. In cases where the stains are too old or set in, at least cleaning the area will help improve the appearance and lessen the overall impact of the stain. From commercial pressure washing for your business to driveway washing for your home, we can lift all kinds of stains with our skills and industry expertise!
Our team is proud to say that we do not use harsh or harmful chemicals in any of our processes. All chemicals used are biodegradable and safe for surrounding plants and wildlife and won't have a significant impact on the environment! If you're looking for safe and effective pressure washing in Middletown, look no further than T&T Powerwash!
Articles & Tips
Leave Your Roof Cleaning To The Pros!

Your roof is the first line of defense your home has against the elements, and as such, it requires a bit of care from time to time to ensure it's able to continue doing its job properly. Having your […]

The Benefits Of Softwashing

It's no secret that soft washing is one of the fastest and easiest ways to help your home or business look and function like new again. At T&T Powerwash, we can help your Middletown buildings look ne […]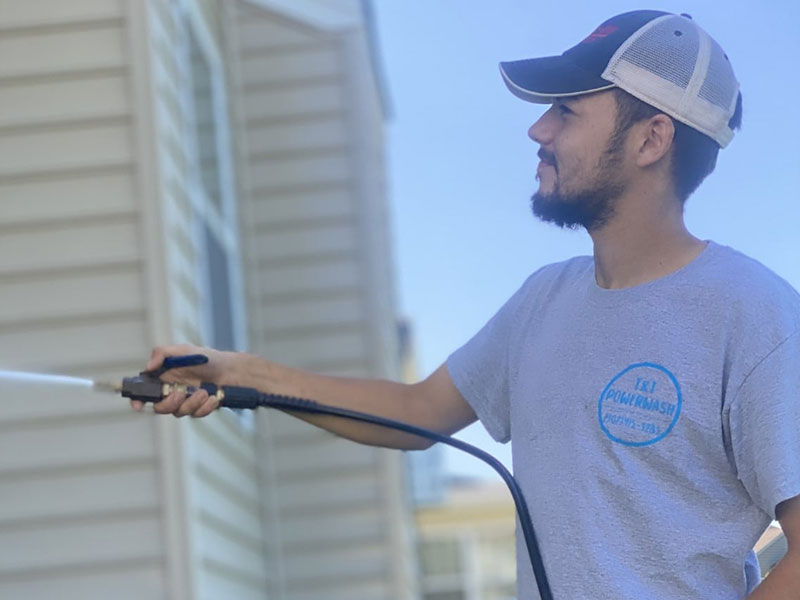 Get A Free Quote Today From A Middletown Pressure Washing Company!